February Flood: Field & Club Status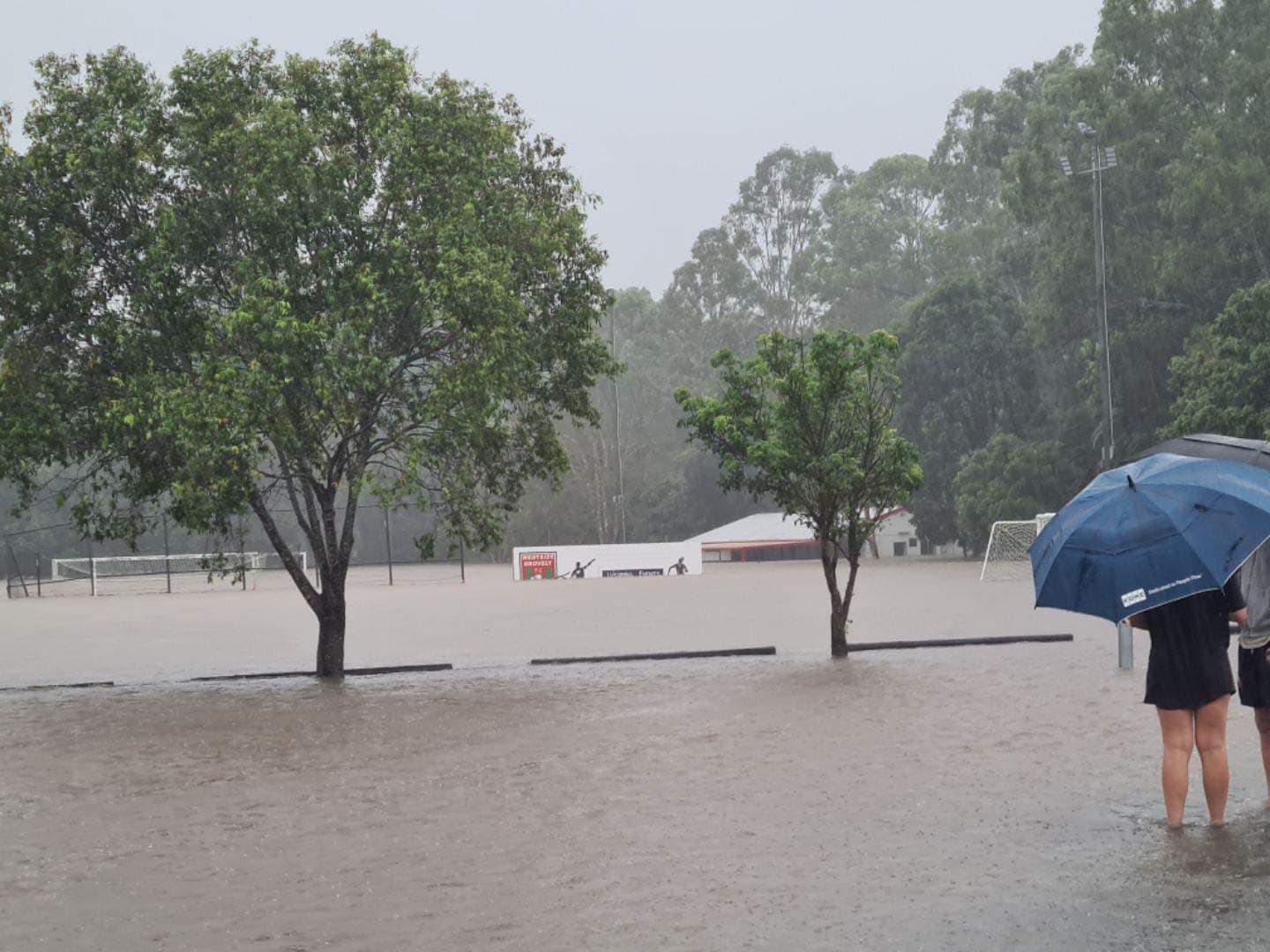 Latest Updates  – 11th May, 2022
As all members will be aware, Westside Grovely was significantly affected by the floods experienced in Brisbane in late February, 2022.
Following this, there are a number of assessments & repairs that need to take place prior to the reopening of all facilities at Grovely Sports Ground.
The Insurance Assessor visited site 18/3/2022
Switchboard repairs have been completed, power reconnected and all electrical circuits tested. The floodlights on both fields are now operational.
Club members have made repairs to all the clubhouse doors so that the dressing rooms and toilets can be used. Thank you to all involved!
Field One fence installation started on 9/5/2022, and is scheduled for approx one week. We expect this job to take much longer now, due to the rain we are experiencing.
All drains in and under the clubhouse have been cleaned and are operational.
Building inspection by Allianz' nominated builder was carried out on 10/5/2022. We expect to recieve the quote for repair and expected repair times by 20/5/2022.
Our contents claim is with the Insurer, and we expect this to be finalised late next week.
---
Clubhouse
Thank you to all members who came down to assist with the clean up of the club house – the club is extremely grateful for your support.The clubhouse is currently closed due to serious flooding.
Almost all appliances  and equipment will need to be replaced following assessment by insurance providers.
Power has been restored to the Clubhouse –  all GPOs and light switches water affected have been replaced.
The clubhouse has suffered severe internal damage and will need all plasterboard walls, skirting boards, doors, showers, shelving and door locks replaced.
The entire canteen will need to be gutted and totally rebuilt.
---
Fields
Field 1
The main field at Grovely Sports Ground is OPEN –  FQPL training only at this stage
The field has been remarked.
The floodlights are operational.
The fence has been removed and all postholes filled.
Football Queensland has given permission to play fixtures on Field One.
Field 2
The second field at Grovely Sports Ground is OPEN.
The field has been remarked.
The floodlights are operational.
Training has resumed.
Field 3
The third field (Rugby League field) is OPEN.
Currently available on the following nights:
Monday at any time
Tuesday after 8pm
Wednesday after 7pm
Thursday after 8pm
Friday at any time
Weekends at any time
However, we prefer all training is carried out on Westside's Field 2.
---
Training
Training for all teams is available on Field 2 .
Training on Field 1 available for the PQPL squad only, Tuesday & Thursday. There is  limited use of the field –  18yd boxes are NOT to be used, games only, no running drills at all.
Field 3 is available on the previously mentioned days/times.
---
Help us get back to normal quicker
We have a few tasks to help us get back to normal, and we're looking for volunteers to assist. Tasks include assistance with removing the damaged clubhouse interior.
If you can help, please contact  secretary@wgfc.com.au .